News
A Quick Guide To ABB Robotics And Custom Applications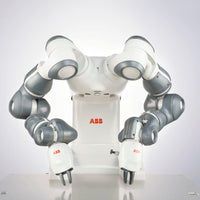 The ABB Robotics Group is a leader in both power and automated technologies, specifically when they enable utility and improve performance while lowering environmental impact. The ABB Group consists of several departments, including Power Systems, Discrete Automation and Motion, Power Products, Process Automatic, Low Voltage Products, and more. They prioritize technology and promote activities worldwide that are working to develop unique tech that makes ABB customers more competitive, all while minimizing environmental impact.
Sustainability and technology are integral to all aspects of ABB's business. They strive to balance economic, environmental, and social objectives and incorporate them into daily business decisions. ABB is a publicly listed company, operates in about 100 countries, and employs nearly 135,000 people. 
Outer Reef Technologies is a proud partner of ABB Robotics, which means we deliver services in seamless cooperation with ABB. We can bring ABB products and services right to your front door. We have an in-depth knowledge of local markets and are conversant with the defined ABB products and processes. Keep reading as we discuss how we can help you with custom applications with ABB robotics and how robotics assists with medical procedures.
ABB Robotics - How Outer Reef Technologies Can Help You With Custom Applications 
When we describe ABB robotics, we're discussing a branch of technology that deals with design, construction, and the operation of robots. Industrial robots are usually standard machines controlled by an internal or external computer that can automatically carry out a complex series of movements. 
Robot forms can vary, from primary robot arms to completely autonomous vehicle-mounted robots. They are also often equipped with audio, visual, and tactile sensors. A standard robot usually follows a predetermined program, while collaborative robots have force-sensing built-in, meaning they can track a person's movements and work with them collaboratively.
We work with ABB robotics to help build machines that can substitute humans in dangerous environments, including hazardous areas, high-temperature environments, radioactive environments, or areas that have harmful vapors and gas. The most significant benefit that robots present is their adaptability and flexibility. They are a vital component for automated systems with mixed products or requirements. Robots can be an affordable way to automate multiple tasks with many variables that would otherwise need a very customized automated system.
Examples of Our ABB Robotics Line and Custom Applications
Surgical Robots

Collaborative Robots

Industrial Robots

Controllers

 Equipment and Accessories

 Application Software

 RobotStudio

 Service 

 Manufacturing Robot Solutions

 Welding Robots

 Food and Beverage Robot
Robot-assisted surgery allows doctors to perform several complex procedures with more precision and control than is possible with more conventional techniques. Robotic surgery is typically associated with minimally invasive surgery, operations that are performed through tiny incisions. 
This type of surgery is becoming increasingly popular in hospitals in both Europe and the United States to treat a wide variety of conditions. Clinical robotic surgical systems usually include a camera arm and mechanical arms with surgical instruments attached to them. A surgeon will control the arm while sitting at a computer console right next to the operating table. This console gives the surgeon an HD and magnified 3-D view of the surgical site. The surgeon leads team members who assist throughout the operation.
Surgeons who use robotic systems have found that it enhances precision and control for many different operations compared to traditional techniques. With robotics, surgeons can perform delicate and complex procedures that might be impossible otherwise. Robotic surgery makes minimally invasive surgery much more accessible, which has a myriad of benefits. This type of surgery has fewer complications, less pain and blood loss, less site infection, a faster recovery, and smaller scars.
Is ABB Robotics The Future Of Healthcare?
Due to the COVID-19 pandemic, there has been a renewed and expanded interest in non-surgical healthcare robots worldwide. Hospitals and healthcare providers worldwide realize that robots can offer significant improvement opportunities in laboratory efficiency, rehabilitation, and delivery of care in general.
This coronavirus has increased the global shortage of skilled medical staffers. Couple that with laborious and slow laboratory test processes, and the access to life-saving treatments becomes limited. In response to this, biopharmaceutical and test labs are quickly turning to automation in an effort to improve productivity, consistency, and above all, safety. Higher quality and more flexible care can enhance patient outcomes, and major nonsurgical robotics suppliers have recognized this need in the market. 
Last year, ABB Robotics opened a global research hub at the Texas Medical Center in Houston. The facility includes an automation laboratory and robot training facilities and even provides meeting spaces for partners co-developing innovative solutions. ABB is viewing this unit as the first "global robotics for healthcare research hub," quoted by Jose-Manual Collados, the healthcare solutions business line manager at ABB Robotics. This ABB research team works onsite alongside:
Medical staffers

Scientists

Engineers

Researchers

Investors from local hospitals

Blue-chip technology companies

Start-ups on the TMC campus
They are in the process of developing nonsurgical medical robotics systems, including logistics and even next-generation automated laboratory technologies. The team aims to create robotic systems that can carry out the repetitive and mundane processes and leave the rest of the medical and laboratory staff free to undertake more valuable roles and treat more patients.
Choose Outer Reef For All Your ABB Robotics Needs
At Outer Reef Technologies, we consider ourselves different than other medical device product development companies. With a proven history of solving complex problems in our industry when you need it most, our experts have a strong and high-level understanding of product development in the medical industry. We have a clear understanding of what our customers need and what the market needs when it comes to your manufacturing projects. Our designs are made explicitly for manufacturability, meaning they operate under a quality management system, and they are ISO 13485 compliant.
End to end, we have the knowledge and capabilities to support any portion of a project. From the spark of an idea all the way through commercialization, our engineers will be by your side every step of the way. At Outer Reef Technologies, we'll provide you prototype support and always prioritize your schedule and your budget.

 
When you want to work with a team that stands out from the rest, reach out to us today.
Leave a comment (all fields required)
Comments will be approved before showing up.