News
Exploring the Advantages of DC Motors: A Perfect Fit for Robotics Applications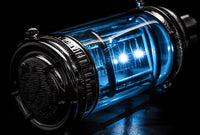 In the world of robotics and automation, precision, control, and efficiency are paramount. When it comes to choosing the right motors for these applications, one technology has proven to be a perfect fit - Direct Current (DC) motors. DC motors, when coupled with advanced control techniques like Field-Oriented Control (FOC) and the right DC motor controller, offer a host of advantages that make them an ideal choice for robotics applications. In this blog, we will delve into the world of DC motors, FOC, and the benefits they bring to the realm of robotics.
The Basics of DC Motors
Before we dive into the advantages of DC motors in robotics, let's start with the basics. A DC motor converts electrical energy into mechanical motion. It does this through the interaction of a magnetic field and current-carrying conductors. The basic components of a DC motor include the stator (the stationary part) and the rotor (the rotating part). The stator produces a magnetic field, while the rotor has windings through which current flows.
The direction of rotation and speed of a DC motor can be controlled by varying the voltage applied to it. This simplicity in control is one of the primary reasons why DC motors are favored in robotics applications. However, the real magic happens when we introduce Field-Oriented Control.
Field-Oriented Control (FOC)
Field-Oriented Control is an advanced control technique that enables precise control of DC motors by aligning the rotor's magnetic field with the stator's magnetic field. FOC achieves this by continuously adjusting the voltage and current supplied to the motor's windings, taking into account the motor's speed and load conditions.
Here's how FOC works in a nutshell: Instead of directly controlling the motor's voltage, FOC breaks it down into two components: the torque-producing current (Iq) and the magnetic field-producing current (Id). By independently controlling these two components, FOC ensures that the rotor always aligns with the stator's field, maximizing efficiency and control.
Advantages of DC Motors with FOC in Robotics Applications
Now that we have a basic understanding of DC motors and FOC, let's explore the advantages they offer in robotics applications.
Precise Control
One of the standout advantages of using DC motors with FOC in robotics is the level of precision they provide. With FOC, you can precisely control the speed, position, and torque of the motor. This level of control is essential in applications where accuracy is critical, such as robotic arms in manufacturing, where precise movements are required.
High Efficiency
Efficiency is a key consideration in robotics, especially in applications where power consumption matters. DC motors with FOC are known for their high efficiency because they can adapt to varying load conditions. FOC ensures that the motor only draws the necessary current, reducing wasted energy and heat generation. This efficiency translates into longer battery life for mobile robots and lower operational costs in industrial settings.
Smooth Operation
Robots often need to perform smooth and fluid movements. DC motors with FOC excel in delivering these characteristics. By precisely controlling the motor's current and voltage, FOC eliminates jerky or sudden movements, resulting in smoother and quieter operation. This is particularly valuable in applications like camera gimbals or drones, where stability is crucial for capturing high-quality images or video.
Quick Response
In robotics, response time is critical, especially in scenarios where the robot needs to react to changing environmental conditions or avoid obstacles. DC motors with FOC offer rapid response times due to their ability to quickly adjust the motor's current and torque. This responsiveness is vital for ensuring the safety and effectiveness of autonomous robots and drones.
Reduced Wear and Tear
The precise control offered by FOC not only enhances performance but also reduces wear and tear on the motor and associated mechanical components. When a motor operates at the optimal current and torque levels, it experiences less stress, resulting in a longer lifespan. This is particularly advantageous in industrial robots and machinery, where downtime for maintenance can be costly.
Regenerative Braking
Regenerative braking is a feature that allows DC motors with FOC to recover energy during deceleration or braking. This energy can be stored or redirected to power other components, making the system more energy-efficient. In robotics, regenerative braking can extend battery life and reduce the need for frequent recharging or replacement of batteries.
Adaptability
Another advantage of DC motors with FOC is their adaptability to various robotic applications. Whether you need high torque for lifting heavy objects or high speed for rapid movements, FOC can be fine-tuned to meet the specific requirements of your robot. This versatility makes DC motors with FOC suitable for a wide range of applications, from industrial automation to medical robotics.
The Role of DC Motor Controllers
To harness the full potential of DC motors with FOC in robotics applications, the choice of a suitable DC motor controller is crucial. DC motor controllers are electronic devices that manage the power supplied to the motor, ensuring that it operates according to the desired parameters.
Key features to look for in a DC motor controller for robotics applications include:
PWM (Pulse Width Modulation) Control: PWM control allows precise adjustment of the motor's speed and torque by varying the duty cycle of the PWM signal.
Current and Voltage Sensing: Real-time monitoring of current and voltage is essential for accurate control and protection against overcurrent or overvoltage conditions.
Communication Interfaces: The controller should support communication protocols such as CAN, UART, or SPI, enabling integration with the robot's control system.
Safety Features: Overcurrent protection, thermal shutdown, and fault detection mechanisms enhance the safety and reliability of the robotic system.
Customizable Parameters: The ability to fine-tune control parameters to match the specific requirements of the robot's application is a valuable feature.
Conclusion
DC motors with Field-Oriented Control, combined with the right DC motor controller, offer a winning combination for robotics applications. Their precision, efficiency, adaptability, and smooth operation make them a perfect fit for tasks ranging from delicate surgical procedures to heavy-duty industrial automation.
As robotics continues to advance, the demand for motors and control systems that can deliver superior performance and reliability will only grow. DC motors with FOC have proven their worth in the field, and their future in robotics looks promising. Whether you're designing the next generation of autonomous vehicles or building agile, responsive industrial robots, DC motors with FOC are poised to play a pivotal role in shaping the future of robotics.
Leave a comment (all fields required)
Comments will be approved before showing up.